Moana – 6pm 
Doors Open at 5pm 
Happy Hour at West Kauai Sun at 4:30pm
We will be hosting a Happy Hour at West Kauai Sun, so come and join us, there will be a prize raffle.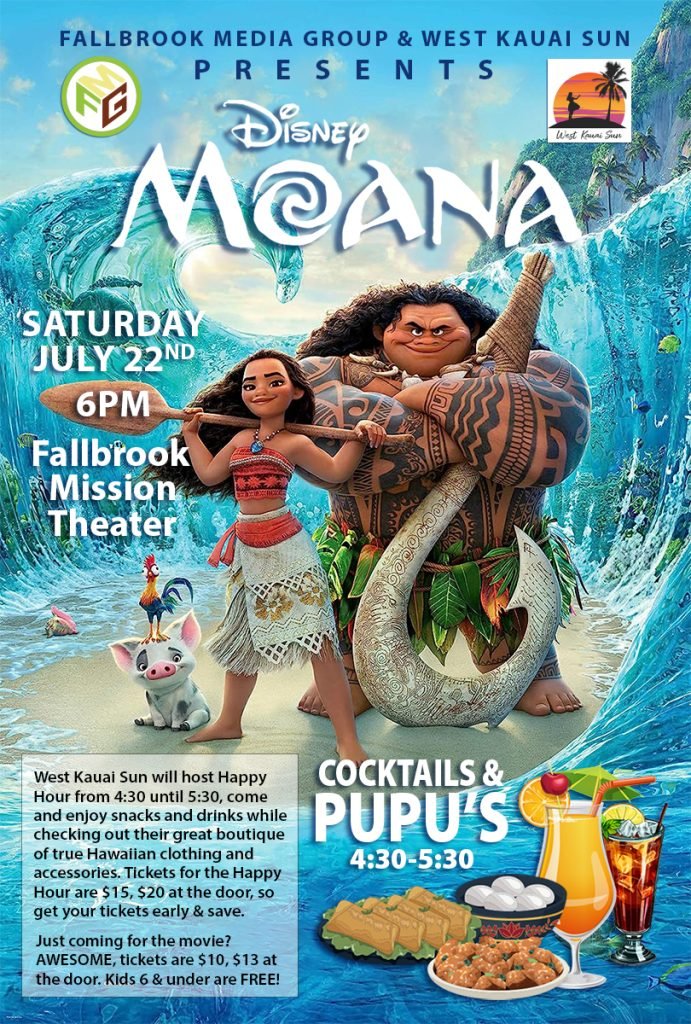 See

your

favorite

movies

on

the

big

screen
We working to schedule movies now, so please check back. On the days we have them you can expect fun movies with food trucks and entertainment for all.
Join us for a day of family fun and entertainment! Our matinee showings are perfect for the whole family, with a "G" rating and pre-movie activities and entertainment.
But the fun doesn't stop there – as the day goes on, we'll switch gears and showcase some amazing movies that you won't want to miss. We'll choose movies rated "PG-13" and "PG" to cater to all audiences, and our pre-show entertainment will feature special guests and activities related to the movie.
And for those extra special days, we'll dedicate the whole day to a movie series that has impacted our lives – think Back to the Future or Raiders of the Lost Ark! Come join us for a cinematic journey that the whole family will love.
See movies like:
Ghostbusters
Grease
Shrek
The Avengers
The Italian Job
Jurassic Park
Aladdin
Star Wars
Super-Pets
Subscribe to our email list and receive Movie Schedules and Special Event Offers.